Patents v Open Source
Protecting an invention by patents (or other intellectual property rights) doesn't work.
As soon as your patent is raised, the invention is open to either blatant copying or teams of people finding "holes" in the patent to exploit your invention without infringing the patent.
Even if your invention is granted a patent, you then have to protect it by challenging infringements in court - not a cheap process.
It doesn't help that large corporations patent trivial and obvious inventions to block competitors developments and "muddy the waters".

The Open Source model as used in software development seems like a better option.
GLE the "Graphics Layout Engine" used to graph my experimental data is a typical example of Open Source Software.
Basically, you describe your invention, effectively "giving it away".
This gives other inventors the opportunity to improve your invention
and describe their improvement in the same way that you described your original invention.

That's all very well, but how do you make money from an invention released under the Open Source model ?
You are free to use your invention (with or without improvements) in your own products
but without the cost & resources to police patent infringements.
Your invention becomes a "showcase" of your talents & abilities for all to see and can be used to promote your business.
In effect, you become the "go to guy" or "go to business" for this invention or related inventions.
The inventor will always have more knowledge of the invention than "copycats" because of the route taken during development.
Also note that published details of the invention is in fact a historic document and further improvements are always under way.
Think of the Open Source invention as "freeware" with extra features, support etc available form the inventor on a "paid for" basis.

All my inventions described during the experiments are released under the Open Source model.
Variations of the inventions are not patentable and they now have "prior art" status.
If any of the inventions in any way helps your business, you may use them licence free.
It is your responsibility to ensure that they are safe and suitable for your intended application.

The invention(s) are provided "as is", without warranty of any kind, expressed or implied,
including but not limited to the warranties of merchantability or fitness for a particular purpose.
In no event shall the author(s) or copyright holders be liable for any claim, damages or other liability,
whether in action of contract, tort or otherwise, arise from, out of, or in connection with the invention(s)
or the use or other dealings in the invention(s).

In general, and with the lack of an Open Source licence specific to inventions, the spirit of the GPL licence shall be followed.

Be lucky, live long and prosper!


An "active" device to speed up freezing of cold water - the "Hydroxide Ion Drive" or "HIVE":

Two or more electrodes are placed in cold water, connected to a source of low frequency alternating current
with the purpose of increasing the hydroxide ion concentration in the cold water.
This invention covers all materials, shapes, locations, orientations and sizes of electrodes,
all electrical voltages, frequencies & phase relationships and applies to all liquids.
The electrodes can be either removed or remain in the container before freezing.
The liquid can be frozen in the original container or transferred to another container or containers before freezing.
Feedback from monitoring the liquid while the HIVE is running and adjusting the drive parameters etc may improve performance.
#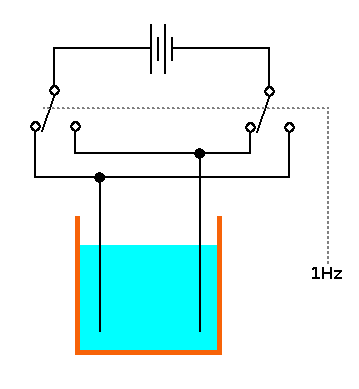 Example use of the invention.
Example application - fast ice cube maker for bar/restaurant using water from the "cold tap".